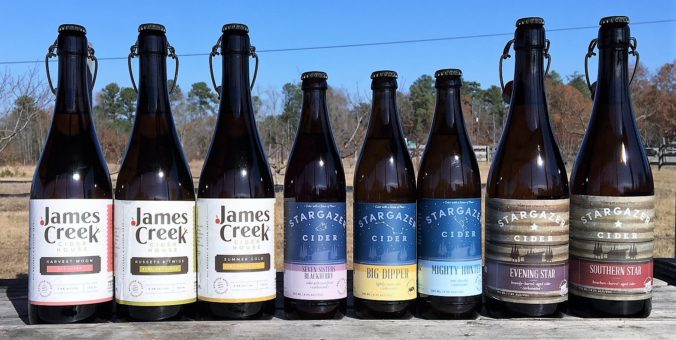 About Us
James Creek Ciderhouse makes premium craft ciders from Southern heirloom and cider apple varieties grown in our orchards in Moore County, North Carolina and other NC family farms within 125 miles of our ciderhouse. We planted about 50 vintage apple trees in the winter of 2009 and now have about 7 acres with over 65 varieties of apples, including such Southern favorites as Kinnaird's Choice, American Golden Russett, Red Limbertwig, Hewe's Crab, Blacktwig, Stayman and Yates.
Each harvest yields a distinctive blend of apples, characterized by the spring rains, summer suns, and cool autumn evenings in the orchards that year. We crush the apples, press out the juice, and ferment it in small batches. Then we blend these batches to create our signature New World Heritage ciders for the James Creek Cider House label :
Summer Gold,
Harvest Moon, and
Russets & 'Twigs
and our New World Modern blends for the Stargazer Cider label:
Big Dipper,
Mighty Hunter,
Mighty Hunter Hopped,
Seven Sisters Blackberry,
Prowling Peach and
Gemini Double Dipper  (cider with strawberry-rhubarb).
Now, we also have wonderful barrel-aged ciders with the Stargazer label:
Southern Star — aged in Bourbon barrels
Evening Star — aged in brandy barrels
Winter Solstice — apple-raisin wine aged in rum barrels and infused with cinnamon, nutmeg and clove.
Whereas James Creek ciders are quite wine-like and dry, Stargazer Ciders are more sessionable and often feature cider in combination with other fruits.
Cider with a Sense of Place.

Use our Contact Us page to tell us about it.